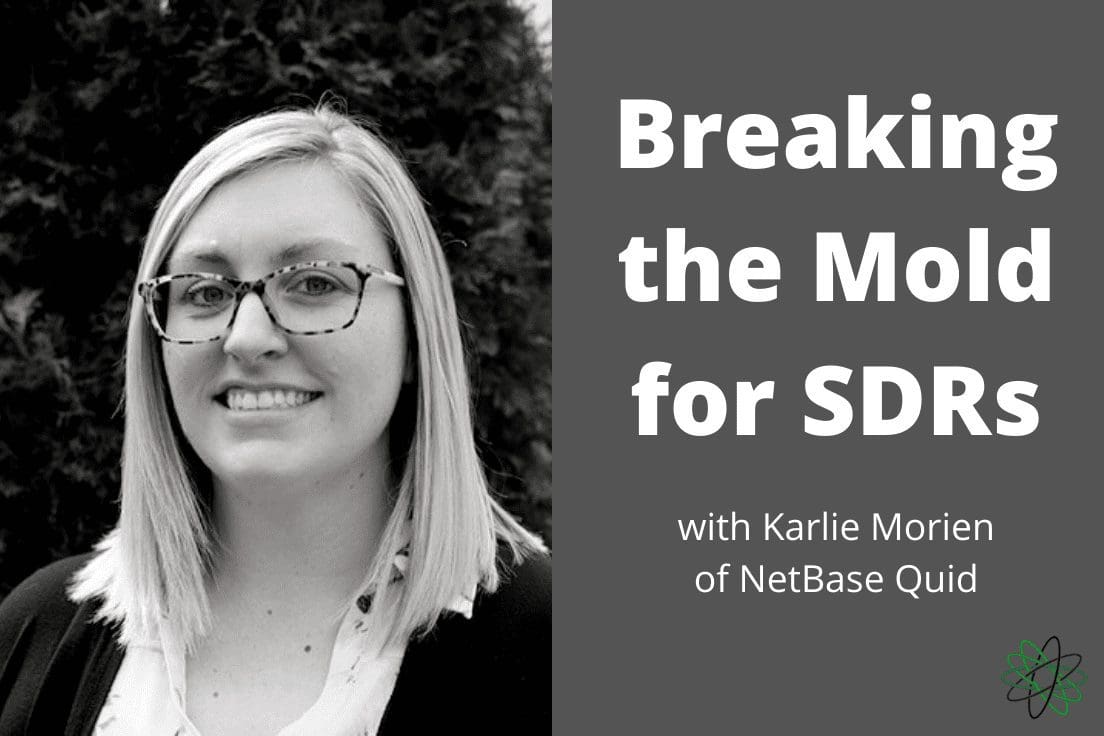 From her first retail sales job to building and leading a global Sales Development team, Karlie Morien has had plenty of experience at all levels of Sales Development. In her interview with Tenbound, she shared her process for closing more retail sales, the lessons learned over nine years in Sales Development, and why she wants to redefine the SDR role.
Getting to the third
No
Karlie learned a lot from her time in retail sales. When you're standing in front of someone who is either going to buy something or not, right there, there's very little time to help them. That's when Karlie came up with her process of 'Getting to the third No.' 
If you ask someone if they want to try on a pair of jeans and they say they're not interested, our default reaction is to leave it at that. Sometimes, though, you just have to talk to them and dig a little deeper to figure out what's going on. Taking that interaction a couple of steps further—past that initial no—and learning a little bit more about them can often get us a better result. 
Lessons from different SDR roles
Karlie's first SDR job was calling real estate offices and convincing them to let a sales rep come in and pitch them. She soon ended up helping manage the outside sales reps, essentially acting as the office manager. It was here that Karlie realized she also liked the management side of sales. 
She later moved over to Comcast. Sat with 140 other reps in a huge room, she would take calls from business owners setting up their phone/internet. The goal was to upsell them right there on the phone, getting them to sign before they hang up—a true one call close environment, with no room for error. 
Karlie got her first taste of tech sales when she moved to Qlik. She was soon leading an inside team there but, even though the company had an SDR engine, it wasn't optimized. That meant she had to do a lot of her own prospecting and, as a result, she quickly became adept at building programs and campaigns. 
When the opportunity came to build Monetate's SDR function for the North America and EMEA regions, Karlie took it. Now she's taking all the lessons she's learned along the way and doing the same for NetBase Quid. 
Top Sales Development challenges
Overcoming competitor objections

: Finding the right messaging that will get your prospect to consider your company over a competitor—possibly one they're already in a contract with—isn't easy

Scaling processes to support growth

: Karlie's new role has involved changing a lot of processes. Now they need to scale those processes to meet the company's demands from a pipeline perspective. 

Career development

:  The SDRs career path is not always clear. When you don't have a revolving door of sales positions open, it's a challenge to keep your team motivated and to figure out how the business can support their career growth. 
Sales Development in 2020
The common view of SDRs is that it's an entry-level role, and Karlie believes companies don't generally give as much love to the SDR team as they should: