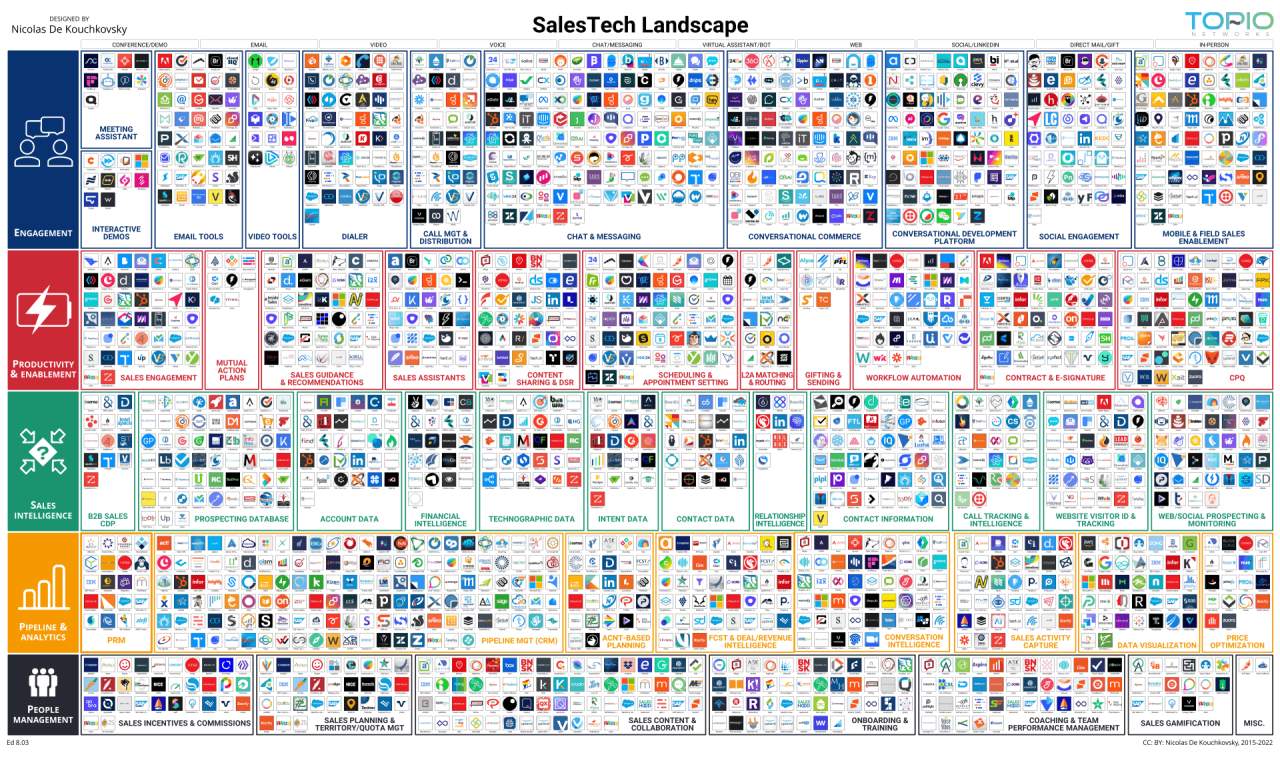 by Nicolas De Kouchkovsky
After releasing the latest version of my SalesTech landscape, I want to discuss the market dynamics and share my findings: part 1 looks at prospect/customer engagement:
Sales engagement is the first category that came out of modern SalesTech stacks. When it emerged, it provoked a gold rush, stimulating the birth of a myriad of email solution providers. Fast forward to today, multichannel — email, voice, including growingly LinkedIn and messaging — is the norm. It forced the landscape to settle: some vendors have graduated into true multichannel engagement platforms, some have pivoted out of the space, and the rest are offering the function as a commodity.
LinkedIn is now playing a prominent role for prospecting. So — and despite the network's stringent terms of service — LinkedIn automation and, to a lesser extent, social engagement solutions have blossomed.
It's worth noting the formation of a new mini category to assist with personalizing and making demos more interactive. It's not a surprise when you think about how important demos grew for most technology offers.
Traditionally, sales engagement platforms have focused on outbound prospecting. It's time to reset: inbound matters.
In a world where buyers are researching on their own, engaging them when they land on your website constitutes a unique opportunity.
Furthermore, Covid has brought e-commerce and sales closer together. The envelope of products and services that can be sold online using a self-service model keeps on being pushed. As purchases get more sophisticated, they require online assistance. It drove an explosion of chat, messaging, and conversational AI/commerce solutions.
Keep in mind that inbound is not limited to chat and messaging. It also includes voice — call distribution and callback — and direct scheduling.
While a large chunk of sales engagement technologies commoditizes, the role of sales engagement platforms has become more strategic, at the forefront of handling the "great fragmentation" of touch points, buyers, and customer-facing teams.
We are still in the first innings of sales engagement penetration. It remains mostly used in the technology vertical with adoption lagging in other industries.
A few players, most notably Apollo, have been combining prospecting and sales engagement. It didn't become as big as I thought it could. They have been joined by market leader ZoomInfo though, a move that could be followed by others.
Historical sales engagement leaders Outreach and SalesLoft have been significantly expanding their solution footprint beyond adding channels and making their software available to all customer-facing teams, not just inside sales. They are, in particular, adding AI assistance, a move propelling them to top contenders for delivering unified seller workspaces.
More to follow…
In the meantime, tell me what you think/see.
Landscape here: https://lnkd.in/g2QqWhQi
#salestech #revenuetech #salesengagement
Originally posted on Linkedin https://www.linkedin.com/posts/nicolask3_salestech-revenuetec