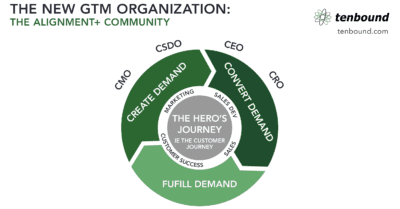 Building Your Go-To-Market Team Around Your Customer's Journey
Is this the end of the Sales Funnel, and rise of the Customer Journey Circle?
Why do some businesses have consistent success with Go-To-Market (GTM) team alignment when others fail – sometimes having similar products or services?
Most SaaS companies have their Go-To-Market teams set up focused on a model based in siloes. Marketing -> SDR -> Sales -> Customer Success. 
Problem is, customers don't care about the structure of your company. 
They care about products or services that solve problems, offer value, and make their life better in some way. Not about how you set up your process.
You know the feeling: you start exploring a SaaS solution. You fill in a form or set up a free trial. An SDR calls you, asks a bunch of questions. You feel like you're being interrogated. Then you have to take another call with an AE, who was late for the call and asks all the same questions. Then you have to take another call with a Solutions person, who actually knows what they're talking about but ends up asking all the same questions again. 
At this point…. you tuned out. They want to set up more meetings but at this point you're over it. 
They forgot the main impetus for you reaching out in the first place: to solve a problem. 
When a business looks at a customer through a self-focused lens, the interaction feels more like they're being forced into your process, versus receiving the value they need from you. 
Without a deep understanding of the customer journey, it's difficult to align to provide the value customers expect and to provide a seamless experience.
They made the experience all about them and not you and your problem. 
The way you need to structure your GTM team is not about you, it's about the customer. 
A Customer Journey Map Can Help You See the Bigger Picture
How do you avoid this and get better results. Where do you start in mapping the journey, and aligning your GTM team to support it?
That effort starts by sketching out a timeline or map that shows each stage of the customer's experience.
Any time a consumer encounters your brand will add a step to the journey. These touchpoints include any interaction with your company, ranging from how they see you on social media to your website.  Additional touch points might include online reviews, peer community interactions, your sales process, and your email marketing messages.
What are they doing at each step – from identifying a problem, to interacting with you, to becoming a customer, to staying a customer and expanding their relationship? What feeling do you want them to have in the journey?
Mapping Your GTM Team to the Customer Journey
After you've mapped out the customer journey, build your GTM team around it in a circle, versus a funnel or vertical diagram. Hubspot has a version of this here, they call the The Flywheel Model. 
Your goal now is to expand the size of the circle. The more you sell, the bigger the circle becomes.
Start with your brand promise- how do we want people to feel about their experience working with us? Build your brand marketing programs around that. Measure success based on the seamless experience of brand from discovery,to interaction (SDR) and hand-off to Sales/Success. 
Once customers are raving fans, Success and Marketing then work together to increase that loyalty and create more leads.
Around and around it goes. Ever expanding, always with the customer in the middle. Not your process or your system, the customer. 
The better you are each stage of the circle, the larger it expands.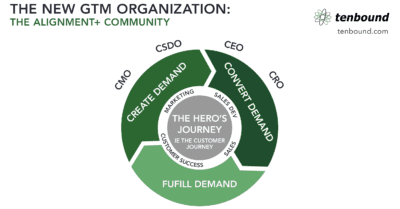 If your GTM team is still contained in individual units or struggling to communicate with one another to discover the customer journey, Tenbound can help with our Alignment workshop.  
Leave a comment and let me know what you think.