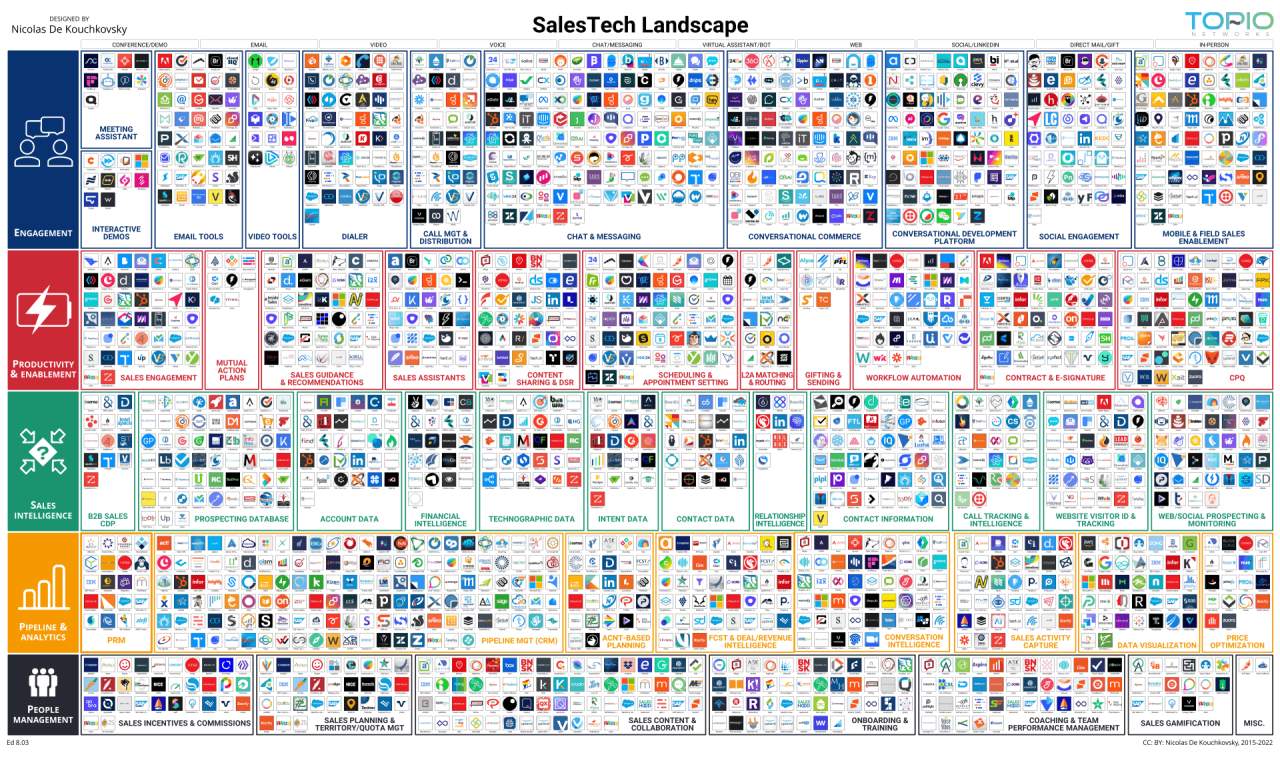 by Nicolas De Kouchkovsky
I just got back a few cycles to continue my discussion of the SalesTech landscape and market dynamics: part 2 digs into workflow orchestration and automation.
A decade ago, CRM was ruling sales reps' desktops, and issues boiled down to improving usability and offering a mobile experience to help adoption.
Now, the landscape is very different
1) Reps use many channels to communicate with customers
2) Reps must orchestrate multi-threaded approaches to deal with larger buying committees
3) Reps have to record every interaction and follow-up task to feed data-driven processes such as forecasting or deal review
4) Individual sales reps are replaced by selling teams, including Business/Sales Development Reps (xBRs) and Customer Success Managers (CSMs). They use different systems that must be synchronized to offer a unified face to customers
The net of these changes is that reps are overloaded with data entry requirements and have to juggle multiple apps to run more complex workflows.
4 technologies are looming to help reduce the complexity induced by modern stacks.
Sales Engagement Platforms can provide integrated desktops to handle many of the above requirements. They are getting adopted beyond XDR teams.
A new category — Sales Workplace — with the likes of Dooly and Scratchpad has emerged. They overlay existing systems to offer sellers a streamlined experience to update systems.
For sellers 'living' in their email (f.e. Gmail or Outlook) or collaboration app (f.e. Slack or Teams), plug-ins let them receive notifications and update other systems from within.
Last but not least, workflow automation options are blossoming, handling the back-end synchronization between the various apps of the stack.
The second trend to watch revolves around account-based selling.
The challenges of selling to ever-growing buying committees don't stop at engagement. Reps need to drive alignment and coordinate complex decision processes.
Digital Sales Rooms (DSRs) are not new but now play a more strategic role in sharing content with all the stakeholders and helping better 'read' deal dynamics through content consumption.
Mutual Action Plans began as shared to-do spreadsheets. They are becoming another mini-category, used not just by customer success teams but also to drive the initial sale through to onboarding.
The 3rd and last trend to put on your radar screen is the blossoming of AI sales assistants. They can help with writing and sequencing communications and surfacing the next best actions.
Actually, the combined categories of assistants, guidance and recommendation software grew over 2x in a year. They can leverage the data collected more consistently across all sales journeys and are poised to replace predefined playbooks and cheat sheets.
More to follow…
In the meantime, tell me what you think/see.
The landscape here: https://photos.google.com/share/AF1QipO-bv2b384ErEMFLrmVfTcoKl8LOpYDHmn3DtvS-OAM5wZtyryyrOMfNYx_fqfJuQ?key=NUx5bzlBcnZGbzl4Q3dFZzRHUE1OZDFNWVFMMWd3&pli=1